Home
Project news
An Phuoc Group: Human Resource Management Digital Transformation
An Phuoc Group: Human Resource Management Digital Transformation
On the morning of May 24th, 2021, the kick-off ceremony of the project of implementing Human Resource Management (HRM Pro) software launched between An Phuoc Group and VnResource.
After nearly 30 years of establishment and development, An Phuoc has more than 11 factories, many subsidiaries located in many different provinces. There are more than 6000 employees and more than 150 retail stores which provided brand products from An Phuoc, Pierre Cardin… for Vietnam, Japan, Europe and many other countries.
Gathering together all the complexities of human resource management across the three industries: from manufacturing to distribution and retail with a continuous improvement mindset to improve HR efficiency and develop employees to lead the market. An Phuoc has decided to choose the best solution and a leading partner in Vietnam to implement the digital transformation project of Human Resource Management.
VnResource has more than 16 years of experience in consulting and implementing Human Resource Management Software Solutions for more than 300 leading enterprises such as Honda, Toyota, Panasonic, Thaco, Thien Long, Hung Thinh, especially for garment companies such as: Fashion Garments, Alliance One, Saitex, Paiho, Sedo Vinako, Ansell and retail systems such as high-end fashion chain ACFC (Belonging to IPP Group), Pho Dinh,…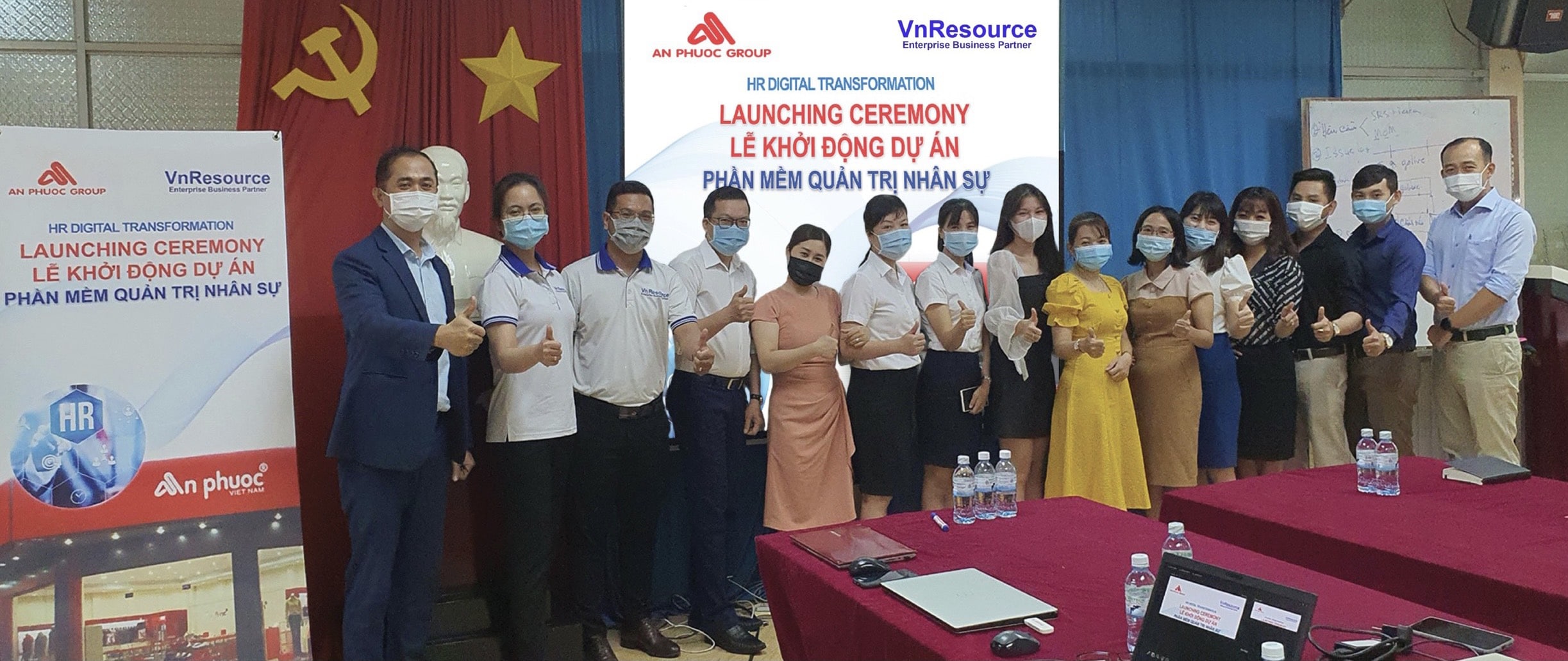 After more than 2 months of evaluating and choosing the best supplier. The solution needs to solve the complex problems of the manufacturing industry, the distribution & retail industry such as time management, business payroll, salary by results, uniform management, business trips management along with effective employee training and development solutions, as well as the Employee Service Portal system (ESS/MSS) to help employees have effective interactive tools within the company to help improve employee performance in the happy working the environment of An Phuoc corporation… Meeting most of these criteria, An Phuoc decided to choose VnResource HRM Pro solution to deploy so that An Phuoc can soon achieve the goal of digital transformation in management.
The project kick-off ceremony remarked an important milestone for all project team members of An Phuoc and VnResource as we became one who share the same purpose of successfully implementing the digital transformation in management: Human Resource Management in An Phuoc with VnResource HRM Pro Human Resource Management Software Solution.