Home
Project news
OEA enhanced the effeciency of managment with Educational Business Management EBM Pro version 9.0
OEA enhanced the effeciency of managment with Educational Business Management EBM Pro version 9.0
In December 2021, after nearly 6 years of deploying and using VnResource EBM Pro Educational Business Management Software, OEA invested to upgrade the latest Version 9.0 to expand business scale of the centre in the future.
Oxford English Academy Vietnam (OEA Vietnam) belonged to BrainClick Vietnam Company which followed the education process and quality management based on the standards of OEA Oxford, UK. OEA Vietnam is authorized by OEA Oxford, UK to be the official representative of OEA (Authorised Regional Representative) which manages and develops the system of school members in Vietnam.
With the educational philosophy of "student is the center of education" – for the benefit of students, OEA Vietnam has collaborated with public schools to implement the program in many years that brought out positive results for thousands of students participathd in the program.
7,500+ is the number of students participating in an English supplementary program with foreign teachers each year– an educational cooperation project between OEA Vietnam and partners in Hanoi such as the Lomo Education System- Lomonosov (High School, Secondary School & High School), Ta Quang Buu Secondary School & High School, Dich Vong Hau Secondary School, Thang Long Secondary School, Thanh Cong Secondary School, Nguyen Tri Phuong Secondary School.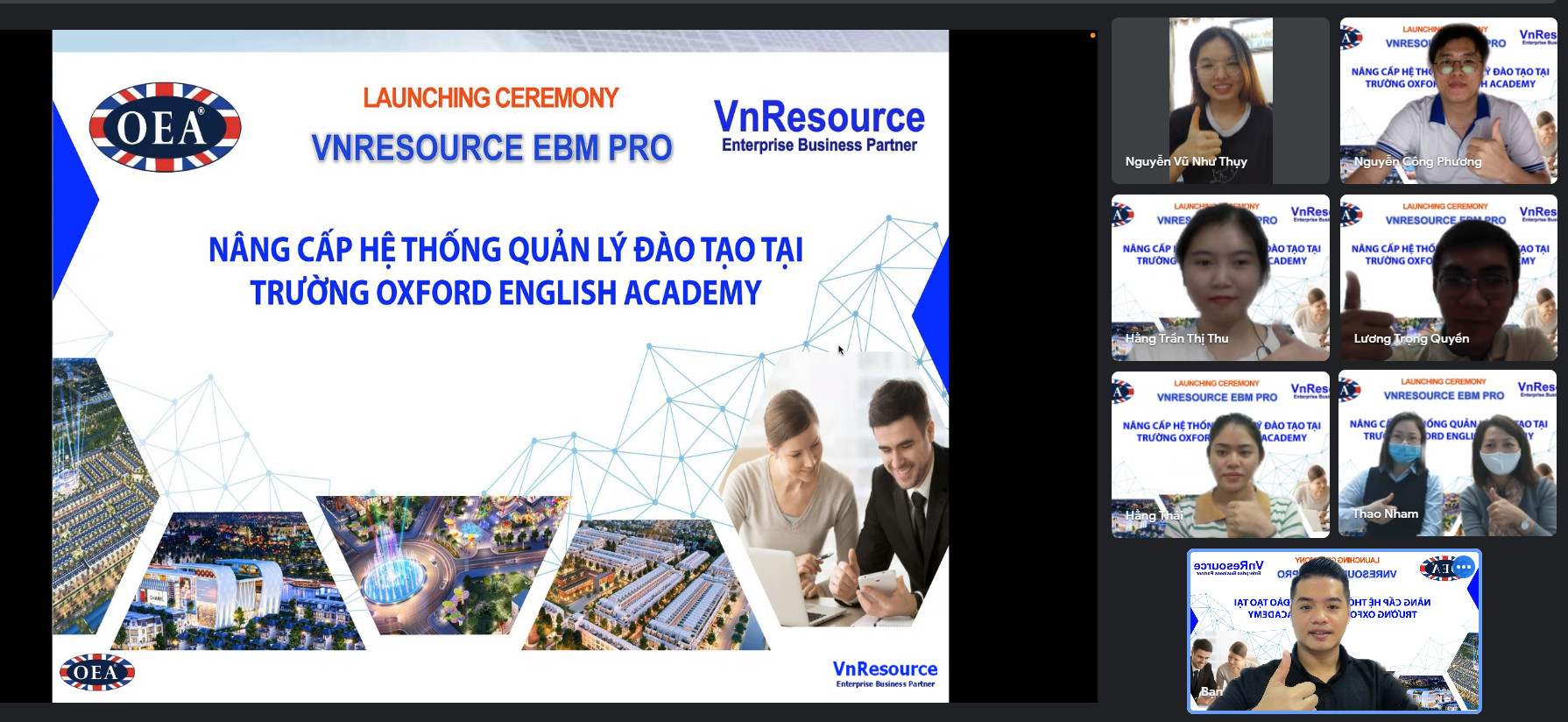 OEA Vietnam's study programs are taught by 100% foreign teachers (combined with Vietnamese lecturers who graduated with Master and Ph.D of TESOL degree) with experience, well-qualified, professional and dedicated in teaching. OEA Vietnam also provide the CV of lecturers participating in teaching before the course starts.
Having deployed VnResource's EBM Pro software since 2015, OEA has effectively applied the software in the educational management to bring out high efficiency in recent years. Along with the development trend and the upgrade requirement of the center, OEA has invested in upgrading the latest version 9.0 of EBM Pro software to have technology updates, graphs, friendly interface with quick search.
Hopefully, with the new upgraded version, EBM Pro will continue to be an effective tool in the management and development of the center which led the development of the OEA system to better quality and larger scale in the near future.