Home
Project news
Thuan Phuong Group cooperates with VnResource: Kick-off Ceremony
Thuan Phuong Group cooperates with VnResource: Kick-off Ceremony
In the process of digital transformation with the solution of ERP SAP, S4Hana, BI, Microsoft 365… On the 1st November, 2021, Thuan Phuong Group (TP Group) and VnResouce launched the Kick-off ceremony of deploying Human Resource Management software HRM Pro.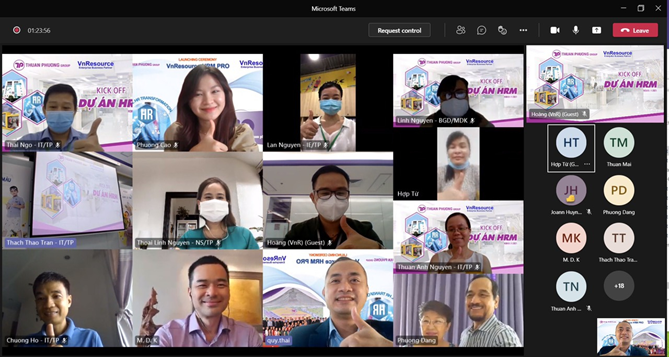 Most of the founders and BOD of Thuan Phuong Group participated in the Kick-off ceremony, included: Mr.Mai Duc Thuan – The chairman of Board, Ms. Dang Thi Ngoc Huong – Vice chairman of Director, Mr. Mai Dang Khoa, Ms. Tran Vu Dieu Huyen – Board of Director, Mr. Ngo Phan Quoc Thai – IT & Digital transformation Director, Ms. Huynh Tram Anh – IT mentor and over 20 member of project teams.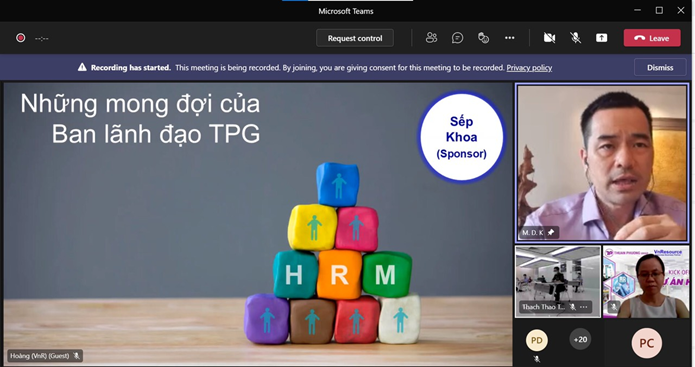 TPG was founded in 1983, currently TPG has become one of the leading private embroidery company in Vietnam. Up to now, TPG has developed dramatically to become a multi-industry corporation in many different fields: hospital, school, restaurant, real estate… Together with the outstanding development of TPG are: a team of nearly 10,000 professionally trained employees and especially a management team with high education qualifications with MBA, MBS degrees from Vietnam and oversea.
TPG has invested a team majored in developing and using internal HR Software before. However, with the increase of expand demand and complicated payment process, salary by results, managing budget plans, planning & managing talent (succession planning), integrating software systems… After many months of working and rigorously choosing throughout the leading HR solutions in Vietnam, TPG has chosen VnResource to launch the digital transformation project of human resource management comprehensively.
The representor of TPG – Mr. Mai Dang Khoa talked about the important of Human Resource Management Software deployment project. He stated that although the collaboration between TPG and VnResource was affected by COVID-19 pandemic, both of the project team worked continuously and carefully implemented the Pre Kick-off works. Thereby, he highlighted the fact that implementing the project in the form of onsite or online is not a matter because in the digital technology era, although we worked from home, the work efficiency was not different. The quality of the implementation team members with many years of experience in the HRM field together with the high expertise of the two project teams, TPG's Board of Directors believed that the project will go smoothly and come to the end of the project with a successful project acceptance.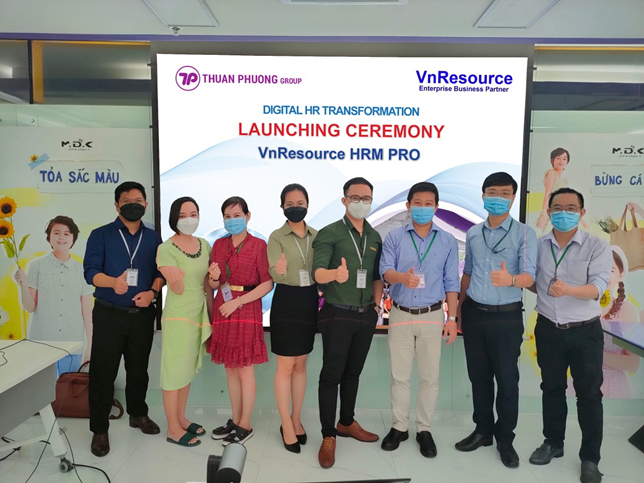 VnResource thanks for the trust and support from TPG Board of Directors. Therefore VnResource's Board of Director and project team members considered that this is a strategic project so that all members are wholehearted and try their best to bring the "Digital HR Transformation" to the successful end. The goal is the success of the project.
Finally, we wish the project successful!