Alpha Academy: EBM Pro Kick-off Ceremony
On the 27th October, 2021, Kick-off Ceremony of Educational Business Management project at Alpha Academy has successfully launched.
Alpha Academy is the English center which teach English integrated with basic Math for children. Alpha Academy uses teaching materials from Oxford press together with Mindset – Exercise – Conversation, even the youngest student can enjoy the study hour effectively; at the same time, it can help students to develop 8 skills: Listening – Speaking – Reading – Writing in English, team-work skill, public speaking skill, critical thinking.
Teachers with standard pronunciation come from English-speaking countries and full of qualifications are thoroughly interviewed and trained in-depth teaching methods as well as child psychology.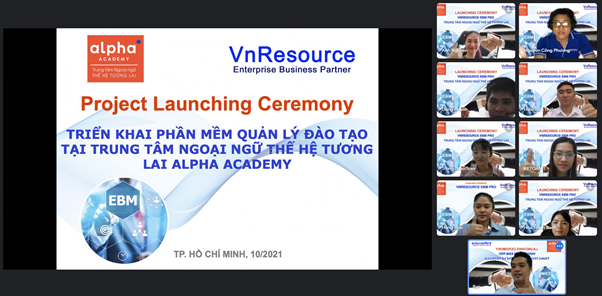 After a period of research, review and evaluation from many Educational Business Management software solution suppliers, VnResource was finally trusted by Alpha Academy to be the right solution due to a lot of experience in deploying in different systems. system of large centers such as Ocean Edu, AMA, Fisher's SuperKids, Nagomi Academy, Viet Thuong Music, Eurasian Career…
From our perspective, VnResource is proud to be evaluated by partners as a reputable and quality supplier. We are very proud and we will do our best for customer satisfaction.
Once again, VnResource sincerely thanks to the customers who have always trusted and accompanied us until today. We wish VnResource's customers to grow more and more.