IRC Tire: VnResource HRM Pro Acceptance Ceremony
On April 24th, 2021, the Acceptance Ceremony of VnResource HRM Pro Human Resource Management Software Project at INOUE Rubber Co., Ltd (IRC Tire) was held with the participation of two project team members.
Human Resource Management HRM Pro Software Implementation Project at IRC Tire is a typical project expected to be complete within 04 months with core modules of HRM Pro. However, due to the impact of the COVID-19 pandemic, the human resources department was separated into many projects which led to the the interruption and prolong of the software implementation. Up to now, after 8 months of implementation, the project has been completed and two project team have agreed to accept the project, including Modules: System Administration, Personnel Information Management, Time Attendance Management, Payroll Management (including salary by results), social insurance, personal income tax, human resource portal.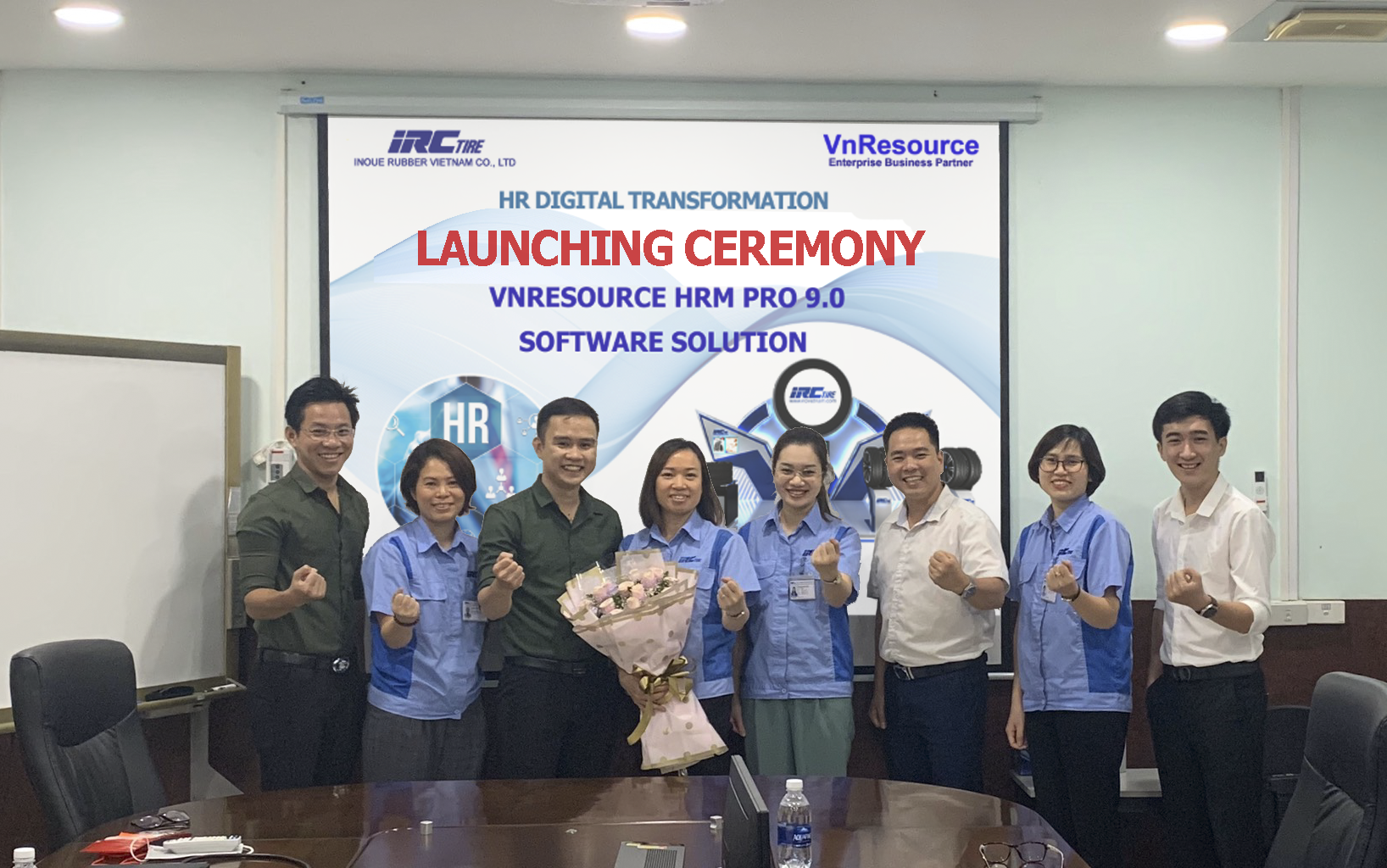 During the project acceptance ceremony, Ms. Nguyen Quynh Tram – Human Resources Director, Project Director said: "First of all on behalf of the Board of Directors and Project Board, I would like to thank Mr. Quy along with the project team and VnResource have successfully deployed HRM Pro Human Resource Management Software for IRV. This project has especially draw the attention of the General Director of EIICHI YANO and INOUE Group.
I have been with IRC Tire from the beginning to now for 25 years, having implemented many software projects, we highly appreciate the software system and deployment team of VnResource. HR software has helped IRV standardize manually operating HR business processes, submission approval, complex product payroll, and finally all key operations have been uploaded on the software. After this project, we want to expand and deploy other modules on the HRM system. Regarding the implementation team, we appreciate your attention, responsibility and professionalism. You are young people, but there is no lack of expertise to help us in operating processes, if it hadn't been VnResource, we are not certain that the project will be completed at this time. Therefore, I want to suggest to Mr.Quy and BOD of VnResource not to criticize deployment team because of the late deployment.
After Ms. Tram, Mr. Thai Binh Quy – General Director of VnResource expressed his gratitude to IRC Tire: "VnResource received your valuable feedback which will certainly be a motivation for VnResource to constantly improve and provide the best service to customers. Thank you very much for your support during the implementation and absorption of Ms. Tram's ideas."…
Once again, congratulations to the HRM Pro project team at IRC Tire for successfully implementing the HRM Pro project. project and won the satisfaction, many sincere compliments from customers!
VnResource would like to sincerely thank and wish our customers good health, happiness and success!